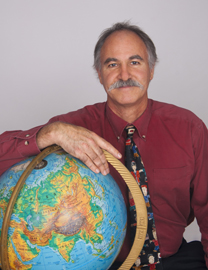 With a warming world our snow cover is disappearing
Ice and snow cover on Earth influences the world's climate by reflecting solar energy back to space, keeping the globe at an ideal temperature. As our world warms due to climate change, that important ice and snow cover is starting to disappear and the Earth is beginning to absorb more solar radiation, increasing the warming of the world. Come hear Professor Young as he presents the science of climate change and then explores the change in snow cover globally and in our area of northeastern North America.
Dr. Young is a professor of remote sensing and environmental sustainability at Salem State University where he uses satellites to study climate change. His current research centers on environmental change in NorthEast North America, nature conservation in China and explaining science in art gallery exhibits. He recently co-edited two books on global environmental change and sustainability, edited a special edition of the journal Northeastern Geographer on environmental change in NE North America, and wrote a number of journal articles and book chapters on spects of climate change and environmental conservation in China.
Co-sponsored by Quincy Climate Action Network - Quincy CAN and Fore River Residents Against the Compressor Station (FRRACS).