Wayland Free Public Library
Noontime Book Group
12:00 PM - 2:00 PM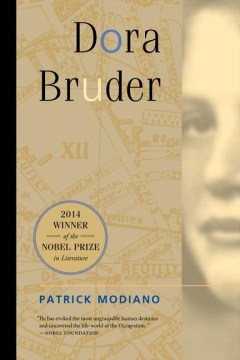 Dora Bruder by Patrick Modiano
The author documents his ten-year search for details about the life of a Jewish Parisian teenager who ran away from her Catholic boarding school and was ultimately deported to Auschwitz by the Nazis, describing the Paris of that time period and reminiscing on memory and loss.
Noontime Book Group
12:00 PM - 2:00 PM
What Maisie Knew by Henry James
After her parents' bitter divorce, young Maisie Farange finds herself shuttled between her selfish mother and vain father, who value her only as a means for provoking each other. Maisie--solitary, observant, and wise beyond her years--is drawn into an increasingly entangled adult world of intrigue and sexual betrayal until she is finally compelled to choose her own future. Published in 1897 as Henry James was experimenting with narrative technique and fascinated by the idea of the child's-eye view, "What Maisie Knew" is a subtle yet devastating portrayal of an innocent adrift in a corrupt society.
Noontime Book Group
12:00 PM - 2:00 PM
We Are All Completely Beside Ourselves by Karen Joy Fowler

From the "New York Times"-bestselling author of "The Jane Austen Book Club," the story of an American family, ordinary in every way but one--their close family relative was a chimpanzee.
Noontime Book Group
12:00 PM - 2:00 PM
Secret Daughter by Shilpi Somaya Gowda
Moving between two worlds and two families, one struggling to survive in the fetid slums of Mumbai, the other grappling to forge a cohesive family despite their diverging cultural identities, this powerful debut novel marks the arrival of a fresh talent.
Noontime Book Group
12:00 PM - 2:00 PM
Rabbit, Run by John Updike
Harry Angstrom was a star basketball player in high school and that was the best time of his life. Now in his mid-20s, his work is unfulfilling, his marriage is moribund, and he tries to find happiness with another woman. But happiness is more elusive than a medal, and Harry must continue to run--from his wife, his life, and from himself, until he reaches the end of the road and has to turn back....
Noontime Book Group
12:00 PM - 2:00 PM
Hotel on the Corner of Bitter and Sweet by Jamie Ford
Set in the ethnic neighborhoods of Seattle during World War II and Japanese American internment camps of the era, the times and places are brought [stirringly] to life (Jim Tomlinson, author of "Things Kept, Things Left Behind").
Noontime Book Group
12:00 PM - 2:00 PM
How To Be Both by Ali Smith
Passionate, compassionate, vitally inventive and scrupulously playful, Ali Smith's novels are like nothing else. A true original, she is a one-of-a-kind literary sensation. Her novels consistently attract serious acclaim and discussion and have won her a dedicated readership who are drawn again and again to the warmth, humanity and humor of her voice.