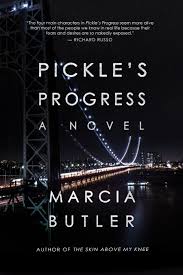 Marcia Butler, author of The Skin Above My Knee, joins us to talk about her debut novel, Pickle's Progress, followed by a book signing.                                           
Copies will be available for purchase.
Registration for this event is not required, but if you'd like an email reminder, please click the REGISTER button below.
"A suicidal jump off the George Washington Bridge sets the lives of four New Yorkers careening out of control in the mordant debut novel by memoirist Butler…. With detached wit and restrained horror at her characters' behavior, Butler explores the volatile nature of identity in this provocative novel." —Booklist
"How does healing happen? Sometimes in quirkier ways than you might expect. Butler's blazingly original novel debut (her memoir The Skin Above My Knee made me want to run away and join an orchestra) is a quintessential moving, witty, New York City story about the love we think we want, the love we get, and the love we deserve, all played out with symphonic grace. I loved it." —Caroline Leavitt, New York Times Bestselling author of Pictures of You and Cruel Beautiful World