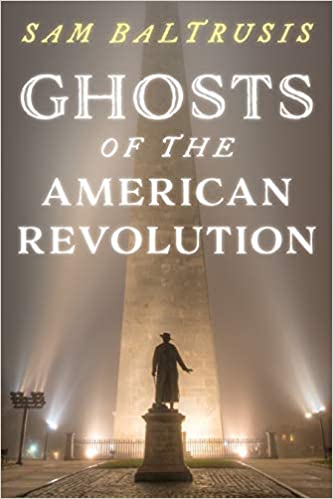 Join local author Sam Baltrusis at the library for a discussion about his new book, Ghosts of The American Revolution.  
The American Revolution is stained with blood and its ghosts are still lurking in the shadows seeking postmortem revenge. Come explore the haunts associated with the colonial rebels' fight for independence, from an aura of disaster lingering from the "shot heard round the world" in Concord, Massachusetts, to the battle cries of our forefathers in Philadelphia, Pennsylvania. Using a paranormal lens, Baltrusis breathes new life into the ghosts of the American Revolution that include both unknown patriots and familiar names.
Advance copies will be available for purchase after the talk!
Seating for this in-person event will be limited in order to encourage social distancing, and masks will be required for audience members. Click REGISTER below to reserve your seats.
If you'd prefer to watch this event from home, MedfieldTV will be live-streaming it for us!   Email Bri at bozanne@minlib.net to get the link to watch at home on YouTube.
Sam Baltrusis, author of Ghosts of Boston and Ghosts of Salem, has penned more than a dozen paranormal-themed books. He has been featured on several national TV shows including the Travel Channel's A Haunting, Most Terrifying Places, Haunted Towns, and Haunted USA. In 2020, he made a cameo on several television programs including Paranormal Nightshift, Most Terrifying with Jason Hawes, and Forbidden History. He also appeared in Fright Club with the Ghost Brothers and Jack Osbourne on Discovery+. Baltrusis is a sought-after lecturer who speaks at libraries and paranormal-related events across the country. He's currently an associate producer of "A Haunting" and featured in the Shock Doc on his distant relative Lizzie Borden. Visit SamBaltrusis.com for more information.