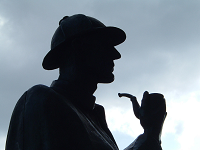 Sherlock Holmes novels and short stories have been in print for 126 plus years, but, that's only the beginning of the amazing Sherlockiana that Sherlock Holmes expert Robert Fritsch will introduce.
He'll take us through the main characters (and author who's quite the character himself), and then through everything else. From movies, TV shows, societies and more!
This is a fast-paced, interactive program and audience participation is welcomed.  Fun mini-quizzes will be interspersed throughout the program.  (Vote for your favorite Sherlock actor [Hint Hint: Jonny Lee Miller is the only correct answer!], test your knowledge of Sherlock trivia, and more!)  Attendees are encouraged to ask questions.
Date:
Monday May 20, 2019
Time:
6:30 PM - 8:30 PM
Contact:
Danielle 978-686-4080x12 dkimerer@nevinslibrary.org
Location:
Garden Room
[

CLOSE THIS WINDOW

]