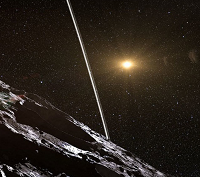 This Summer is all about A Universe of Stories.
And so we welcome Kelly Beatty to tell us all about Asteroids and their stories.
What are Asteroids? How are Asteroids and Meteorites related? What can we learn about Asteroids from the missions that NASA and JAXA (Japanese Space Exploration program) are readying to land on asteroids? Not to mention, when might one of them strike Earth with enough force to create widespread damage?
Join us as Kelly Beatty helps us explore the science (and science fiction) surrounding asteroids. Examples of meteorites will be on display as well.
---
Kelly Beatty has been explaining the science and wonder of astronomy to the public since 1974. An award-winning writer and communicator, he specializes in planetary science and space exploration as Senior Contributing Editor for Sky & Telescope magazine. Beatty enjoys sharing his passion for astronomy with a wide spectrum of audiences, from children to professional astronomers, and you'll occasionally hear his interviews and guest commentaries on National Public Radio and The Weather Channel.
Danielle 978-686-4080x12 dkimerer@nevinslibrary.org