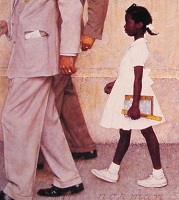 Toward the end of his career, Rockwell painted several poignant works about race in America that can be seen as an extension of his earlier sense of the power of inclusion and exclusion.
Join us as Jane Oneail teaches us all about Norman Rockwell and his evolving views on race during his career.
Please sign up through Zoom HERE You will then get an email with the link that will let you join the program on the specified date and time. You will also get a reminder a week, and then a day before the program.
--
Jane Oneail is an independent scholar and holds a master's in Art History from Boston University and a master's in Art in Education from Harvard University. Jane is a New Hampshire native and has worked at some of the state's most esteemed cultural institutions, including the League of New Hampshire Craftsmen, where she served as Executive Director, and the Currier Museum of Art, where she held the role of Senior Educator. Jane has also taught at the college level for more than a decade, most recently at the NH Institute of Art.
Kathleen Kenny 978-686-4080 x14 kkenny@nevinslibrary.org