INSIDE TABLES HAVE BEEN RESERVED - WEATHER PERMITTING, OUTDOOR SPOTS ARE AVAILABLE AT $10 BY 8AM. PLEASE BRING YOUR OWN TABLE OR BLANKET.
Clean out, rent a table, and help the Library!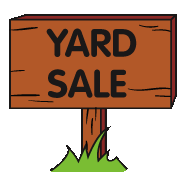 The Friends of the Newbury Town Library are hosting a "Yard Sale" fundraiser to support the Library's programs.  We have ten 6' tables and two 8' tables to rent at $25 per table on a first to sign up basis. 
You may only use the space on and under the table.  No furniture please.
All unsold items must be removed at the end of the sale!
Can't commit now?   On the day of the event (weather pending) we will rent space outdoors for $10.  You bring a blanket or table and $10 and the space is yours!
Tammy Cotter friendsofnewburytownlibrary@gmail.com
Lois M. Anderson Community Room