Museum Of Bad Art 101
Presented live via Zoom!
The Museum Of Bad Art is a unique Massachusetts institution, and as far as we know, the only one of it's kind in the world!
MOBA collects, exhibits, and celebrates art that will be seen in no other venue. 
Join museum curator, Louise Reilly Sacco, for this fun introduction to the collections and mission of MOBA.
This is art too bad to be ignored!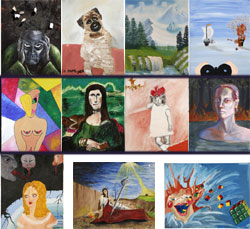 What is MOBA?
What makes art "bad"?
The pieces in the MOBA collection range from the work of talented artists gone awry to works of exuberant, although crude, by artists barely in control of the brush. What they all have in common is a special quality that sets them apart in one way or another from the merely incompetent.
Here's what The Smithsonian has to say about it: "Sometimes a work of art is characterized by a string of failures, but nonetheless ends up being a gorgeous freak accident of nature"
Registration is required. You will receive the Zoom link the day of the event.
This event is funded by the Townsend Library Endowment
Stacy Schuttler 9785971714 sschuttler@cwmars.org