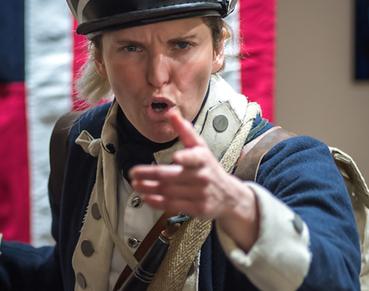 Keeler Tavern Museum and History Center and the Ridgefield Library will jointly be offering a reenactment of Deborah Sampson, a Revolution of Her Own, in celebration of women's history month on Sunday, March 24.  The program will take place at the Keeler Tavern Museum's Garden House.
Deborah Sampson was the first woman to fight in and be honorably discharged from the American military.  This reenactment captivates audiences in an immersive living history program, chronicling her life.  An indentured servant by age 5, Deborah grew up in a man's world, were women were naught but second-class citizens.  As a self-educated, masterless woman, she felt a higher calling and in the final years of the American revolution, bound her chest, tied back her hair and enlisted in the 4th Massachusetts Regiment of the Continental Army as Robert Shurtlieff.
This reenactment and others are performed by History at Play which was established in 2010.  Its mission is to present reenactments of women who helped to forge our history, to educate and entertain students young and old, from all over the world.  Judith Kalaora, the founding member and artistic director of the organization, discovered living history through her work as a historical interpreter in Boston, MA.  Judith is a professional educator, writer and living historian.The living history performances breath life into the stories of influential and often forgotten women.
Admission is free.  The performance will be followed by a reception.
Please register at Keelertavernmuseum.org.  H PVA
Lesley Lambton 2034382282 lalambton@ridgefieldlibrary.org
Keeler Tavern Museum
The Jacob Jolliff Band is the next generation of bluegrass supergroups, led by one of the country's premier contemporary bluegrass mandolinists.
Before joining Yonder Mountain String Band, Jacob Jolliff founded beloved New England roots band Joy Kills Sorrow, while attending Berklee School of Music on a full scholarship. The band logged three records, hundreds of shows, and thousands of miles of worldwide touring. In 2012, Jolliff had the distinctive honor of being named the National Mandolin Championship winner. A fixture of the national bluegrass community, he has collaborated and shared the stage with Darol Anger, Sam Bush, Ronnie McCoury, Jerry Douglas, Chris Thile, and David Grisman to name a few. When Joy Kills Sorrow disbanded in 2014, Jolliff got the call to join progressive bluegrass giant Yonder Mountain String Band.
The Jacob Jolliff Band features some of the most virtuosic and innovative young pickers in the country. Jolliff continues to tour extensively with Yonder Mountain String Band year round, assembling his namesake band when his relentless touring schedules permit, for rare, not to to be missed performances.  Check out this video performance of - "Lost" https://youtu.be/_KbO9latWEU.
Ridgefield Folk is made possible thanks to the Friends of the Ridgefield Library.
Please register.
PVA FR
Lesley Lambton 2034382282 lalambton@ridgefieldlibrary.org
Main Program Room
Ernest Troost, an Emmy-winning film and television composer as well as a recipient of the prestigious Kerrville New Folk award for his songwriting, will perform at the Ridgefield Library on Sunday, June 2 at 2 p.m.
Troost has composed and produced two award-winning albums of songs for Judy Collins using the words of Emily Dickinson, Robert Browning, Gertrude Stein, and others. Los Angeles-based Troost's scores for films include the cult classic Tremors and HBO's award-winning Lesson Before Dying.
This concert is part of the Library's spring 2019 Ridgefield Folk live music series.  Tickets are free thanks to the Friends of the Ridgefield Library.
The concert is free thanks to the Friends of the Library.  Doors open at 1:30 PM.
Please register.  
PVA FR
Lesley Lambton 2034382282 lalambton@ridgefieldlibrary.org
Main Program Room