Tuesday September 11, 2018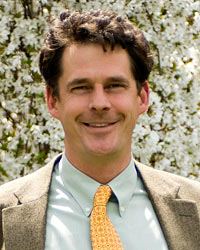 Over the past two decades, The New York Botanical Garden has restored approximately 150 acres of its 250-acre historic landscape while completely changing its gardening practices to balance beauty with environmental responsibility. Todd Forrest, head of Horticulture at NYBG and a Ridgefield resident, will discuss the ongoing transformation of NYBG and provide insight into how great gardening practices can help sustain nature.
Todd Forrest is Arthur Ross Vice President for Horticulture and Living Collections at The New York Botanical Garden. An advocate for historic trees and forests in urban landscapes and public gardens, he has contributed essays to many publications including The Magnificent Trees of The New York Botanical Garden and Trees: Portraits of Time. Prior to joining NYBG, Mr. Forrest worked at the Arnold Arboretum at Harvard University. He received a Bachelor of Arts in Philosophy from Wesleyan University and a Master of Forest Science from Yale University's School of Forestry and Environmental Studies.
This program is co-sponsored by Caudatowa Garden Club and Ridgefield Library and is free and open to the public. Seating is limited.  Refreshments will be served.        
Please register at ridgefieldlibrary.org or call 203-438-2282.
NSTE HG
Lesley Lambton 2034382282 lalambton@ridgefieldlibrary.org
Main Program Room