Come learn how to plan, plant, maintain and harvest your own edible garden with Ridgefielder and Homefront Farmer Owner and Manager John Carlson who after a 25-year career in marketing unleashed his passion for organic farming in 2011. John is an Accredited Organic Land Care Professional (AOLCP), certified by the Northeast Organic Farming Association (NOFA).  He holds a BA in English and History from Williams College as well as an MBA from The Wharton School at the University of Pennsylvania. With his team, Carlson designs, builds and maintains custom at-home gardens. The goal is the help people produce their own food organically so that they can enjoy their own farm to table meals! There is such value associated with having your own edible garden. Here are just three of the benefits: HF NSTE
Good for you… Grown naturally and picked at the peak of freshness.
Good for your family… A teaching moment about where food comes from and the freshest, tastiest ingredients.
Good for the planet… Locally grown means less gas consumption and toxic emissions filling the air we breathe. 
This progarm is made possible by the Noreen L. Papa, Mothers Live your Lives! fund
Lesley Lambton 2034382282 lalambton@ridgefieldlibrary.org
Main Program Room
Join us for a presentation on Plum Island, home to over 200 resident and migratory bird species, about a quarter of all birds known in the U.S., 57 of which are listed as in urgent need of conservation. Learn how you can help preserve this incredible public resource from the threat of development. Chris Cryder, Special Projects Coordinator for Save the Sound and the outreach coordinator for the Preserve Plum Island Coalition, will present a short film produced for PBS, "Conservation of a Precious Island" starring Sam Waterston as well as the latest efforts to protect it.
Located in eastern Long Island Sound, the island has been home to the nation's foreign animal disease center, which is now relocating.  The island has also served as a de facto wildlife refuge for the last 60 years and is home to several endangered species and unique habitats. Now, Plum Island is slated to be sold by the federal government to the highest bidder. Many organizations would rather see the amazing island conserved and are fighting to save it. 
This presentation is co-sponsored by the Ridgefield Library, Ridgefield Conservation Commission, Woodcock Nature Center and the Norwalk River Watershed Association, which is hosting the talk for its annual meeting.  All are welcome!
Please register.
NSTE
Lesley Lambton 203-438-2282 lalambton@ridgefieldlibrary.org
Main Program Room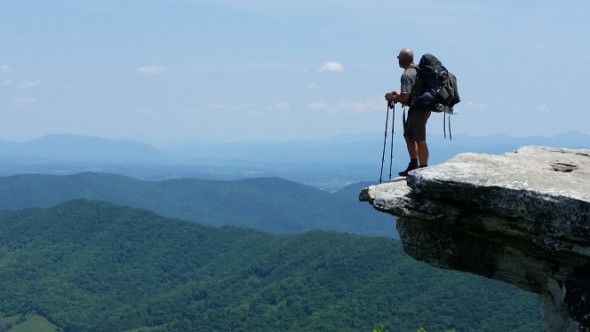 Sam Ducharme set out on a 2180 mile, 14 state backpacking trip from Springer Mountain, Georgia to Mt. Katahdin Maine. During his six month journey he documented the rugged beauty of the Appalachian Mountains, the wildlife, the hardships encountered on the trail, as well as the people, culture and humanity at its finest. Come join him as he takes you through the trail towns, over the mountaintops and through the backcountry. The images and stories will leave you with a renewed awe of the beauty of our country and its people.
See his gear, how he cooked, and hear what it is like sleeping in a hammock for six months through three seasons.
You will also hear how Sam returned to the trail the following year, connecting with aspiring Thru Hikers, paying it forward, and his return to the summit of Katahdin one year later.
Sam Ducharme is a retired K9 Officer and is a lifelong resident of Connecticut. He has two adult sons, both serving in the United States Air Force. As an avid outdoorsman, and finding the empty-nest, Sam decided to buy a backpack and a plane ticket to Georgia. From there, he started walking north. With no prior backpacking experience, he learned on the trail. Gear, trail nutrition, enduring the elements, and the logistics involved in a long distance backpacking trip were hard lessons. After 20 years working within Connecticut's prisons, the search for a positive recharge resulted in a life changing journey.
This program is made possible thanks to the Noreen L. Papa - Mothers: Live Your Life fund.  
Please register.
HF NSTE
Lesley Lambton 2034382282 lalambton@ridgefieldlibrary.org
Main Program Room