7:00 PM - 8:30 PM
Author Talk: Eager: The Surprising, Secret Life of Beavers and Why They Matter with Ben Goldfarb
Join us as Ben Goldfarb discusses his recently released book Eager: The Surprising, Secret Life of Beavers and Why They Matter.  This program is co-sponsored by the Library, Books on the Common and Ridgefield Conservation Commission. 
In Eager, environmental journalist Ben Goldfarb reveals that our modern idea of what a healthy landscape looks like and how it functions is wrong, distorted by the fur trade that once trapped out millions of beavers from North America's lakes and rivers. The consequences of losing beavers were profound: streams eroded, wetlands dried up, and species from salmon to swans lost vital habitat. Today, a growing coalition of "Beaver Believers"—including scientists, ranchers, and passionate citizens—recognizes that ecosystems with beavers are far healthier, for humans and non-humans alike, than those without them. 
Ben Goldfarb is an award-winning environmental journalist who covers wildlife conservation, marine science, and public lands management, as well as an accomplished fiction writer. His work has been featured in Science, Mother Jones, The Guardian, High Country News, VICE, Audubon Magazine, Modern Farmer, Orion, World Wildlife Magazine, Scientific American, Yale Environment 360, and many other publications. He holds a master of environmental management from the Yale School of Forestry and Environmental Studies and is a 2018 North American Congress for Conservation Biology journalist fellow.
This program is part of The Ridgefield Library's Libraries Rock adult summer reading program that is made possible thanks to the Friends of the Library.
Please register.
NSTE FR
Lesley Lambton 2034382282 lalambton@ridgefieldlibrary.org
Main Program Room
Tuesday September 11, 2018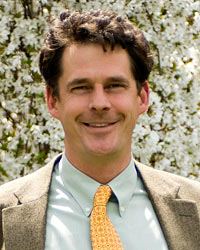 Over the past two decades, The New York Botanical Garden has restored approximately 150 acres of its 250-acre historic landscape while completely changing its gardening practices to balance beauty with environmental responsibility. Todd Forrest, head of Horticulture at NYBG and a Ridgefield resident, will discuss the ongoing transformation of NYBG and provide insight into how great gardening practices can help sustain nature.
Todd Forrest is Arthur Ross Vice President for Horticulture and Living Collections at The New York Botanical Garden. An advocate for historic trees and forests in urban landscapes and public gardens, he has contributed essays to many publications including The Magnificent Trees of The New York Botanical Garden and Trees: Portraits of Time. Prior to joining NYBG, Mr. Forrest worked at the Arnold Arboretum at Harvard University. He received a Bachelor of Arts in Philosophy from Wesleyan University and a Master of Forest Science from Yale University's School of Forestry and Environmental Studies.
This program is co-sponsored by Caudatowa Garden Club and Ridgefield Library and is free and open to the public. Seating is limited.  Refreshments will be served.        
Please register at ridgefieldlibrary.org or call 203-438-2282.
NSTE HG
Lesley Lambton 2034382282 lalambton@ridgefieldlibrary.org
Main Program Room
Wednesday September 12, 2018
7:00 PM - 8:30 PM
Saving Animals From Extinction: Tales of Species Recovery in Connecticut and Beyond
Join Zoologist and Connecticut's Beardsley Zoo's Curator of Education, Jim Knox as he profiles his work with Species Survival Plans and wild species re-introductions in Connecticut and beyond. Learn how 21st century science is extending the reach and achievements of field conservationists and how Fairfield County citizens can become involved in recovery efforts to protect our planet's most imperiled and majestic creatures.
As the Writer and Host for PBS television's WildZoofari, Jim Knox has shared his knowledge of, and passion for wildlife with millions of viewers throughout the U.S., Russia, Thailand, the Middle East and Europe on Animal Planet. Jim has served as an on-camera Wildlife Expert for The Today Show, The CBS Early Show and Fox News. He has been featured in The New York Times and has served as a Wildlife Consultant for Men's Journal Magazine. He has studied rhinos, lions and Great White Sharks in South Africa, conducted field research for Alaskan Brown Bears, field conservation for Atlantic salmon and written nationally for the U.S. Fish and Wildlife Service. Jim Knox also lectures for the University of Connecticut, serves as an Advisory Board Member for the Biology Department at Post University, and as a Board Member with The Science Education Center of Greenwich.  
Please register.
NSTE
Lesley Lambton 2034382282 lalambton@ridgefieldlibrary.org
Main Program Room