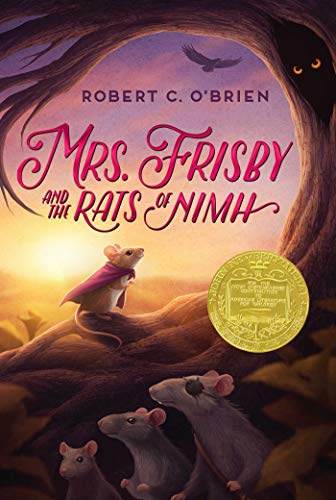 Join us for June's meeting of Carm's Kids Book Club, a version of our Carm's Classics Club made just for kids ages 6 - 12! This meeting we go on an epic quest for survival with Robert C. O'Brien's Mrs. Frisby and the Rats of NIMH!
Moving day is here! Mrs. Frisby, a widowed mouse with four small children, must move her family to their summer home immediately to avoid the farmer's plow. But Timothy is ill with pneumonia and can't be moved! With no options Mrs. Frisby sets off on a journey to seek help from the wise rats of NIMH, a journey where she faces some of her deepest fears... and discovers a connection to NIMH beyond her wildest dreams!
Carm's Kids Book Club is open to kids ages 6 - 12 and their parents. All participants will receive a copy of Mr.s Frisby and the Rats of NIMH that they may keep. Copies are available for pickup at the Young Adult desk for participants. This is a hybrid program. You can join us in person or virtually through Zoom. 
Space is limited. Registration is required to receive a copy of the book and the Zoom link. This program is brought to you by the generous funding of the Friends of C.H. Booth Library.
Date:
Friday Jun 17, 2022
Time:
3:30 PM - 4:30 PM
Contact:
Darcy Sowers (203) 426-4533 dsowers@chboothlibrary.org
Location:
Gathering Room
[

CLOSE THIS WINDOW

]